I've been wanting a little rain so we wouldn't have to water the garden so much, but I think all of this rain is a bit much! Not only did my cup overflow, but so did our creek bank – BIG time! This is what it looked like when I looked outside at 6 a.m. –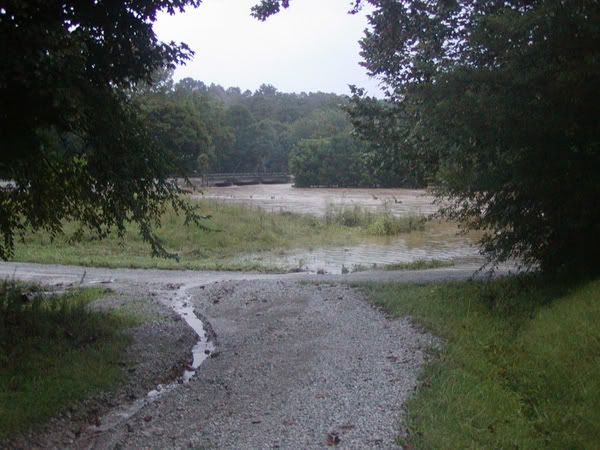 The rain had washed away a big ol' path down our driveway and the creek was rushing almost up to our driveway. Our neighbor says that this is the worst that he's ever seen it. That field is where we intended to put cows someday… I wonder what people do with their cows when it floods. I guess we would move them up to a pasture on higher ground. Our house and horse barn are more up on a hill, but water even edged into our horse pasture. Billy was NOT happy. He just kept wandering around with his ears twitching trying to figure out what was going on.
To the right of our driveway is a gravel road leading towards the creek crossing. Most of our acreage is surrounding that road. That's one thing that is new and kind of weird for us – not being able to keep an eye on all of our property. As the creek overflowed there was no way to get back there and see if trees were downed or anything. There is a flash flood advisory for our area and you can definitely tell why. The water is rushing so fast. I love the sound of it, but we stay far away and don't take any chances. It looks powerful and dangerous. I've heard that a 10 year old girl in the next town over died while playing in the water. It just swept her away. We are going to be very careful. The boys want to play in it, but they're just going to have to be content with playing in the big puddles by the house. I'm not taking any chances. This is the picture looking towards our gravel road to the creek.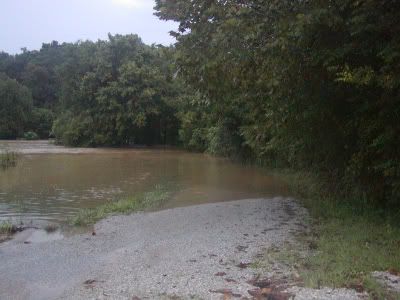 I know that more rain is headed our way tonight and we've gotten prepared with basic supplies just in case we can't get out of the house or lose electricity. This picture shows the main road going to town and notice the water is almost over the bridge. Hmm….
The water has receeded now of course, but I can't help but wonder what we'll be waking up to in the morning. Here's a picture across the road where our property meets up with a neighbor's corn field. It looks like just a big ol' pond, but it's really just all green under there. He's probably lost some of his corn, but most of the water was on our field and covering the road.
We don't have TV reception so I haven't seen pictures of how the hurricane and flooding is affecting others. I'm sure it is disasterous for many and just the shock of all this water here tenders my heart to what they must be experiencing. I think of how God used the plagues to draw people to needing Him and to show Him his power. His power is so evident and I pray that many will come out of this experience drawing closer to God. I remember what Joseph said to his brothers in Genesis 50:20, "You intended to harm me, but God intended it for good to accomplish what is now being done, the saving of many lives." I trust that even through the devastation, God intends it for good and will save many lives.